Samples from Scotland's National Soil Archive hosted at The James Hutton Institute in Aberdeen have been used for the art and science project Geologic Intimacy (Yu no Hana) by artist Ilana Halperin, which highlights the historical connections between Japan and Scotland.
The James Hutton Institute
February 28, 2017
---
Coordinated by Aberdeen-based art curator Naoko Mabon, the project features sculptures shaped by geothermal energy in Beppu, a Japanese city famous for its geothermal sites, and Scottish soil samples from James Hutton's farm in Berwickshire, where he started to formulate his concept of deep geologic time.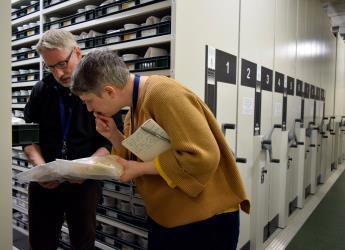 The above image shows Dr Allan Lilly and Ilana Halperin at the National Soils Archive.
Artist Ilana Halperin explains that the Scottish soils continue the narrative of exchange between places and timescales longer than the human lifespan, ideas which are intrinsic to the project.
"The incredible geological history and stories embedded in these soils are both exhilarating to imagine, and remarkable to respond to. They really are living geological history."
Dr Allan Lilly, principal soil scientist at The James Hutton Institute's Environmental and Biochemical Sciences, said the National Soil Archive provides a reference to the state of Scotland's soil in the past.
"We are delighted to collaborate with Ms Halperin in her work to reflect exchanges between places and timescales that go beyond the human lifespan. Soils are the product of many different factors and are formed over the course of millennia. Both Ms Halperin and I are particularly pleased that we were able to make the historical connection with James Hutton."
The exhibition will run from 31 March to 29 April 2017 at Peacock Visual Arts, 21 Castle St, Aberdeen AB11 5BQ.
For more information, visit the project website or the The James Hutton Institute website.
---
Adobe Acrobat Reader is the free, trusted leader for reliably viewing, annotating and signing PDFs.
Download Adobe Acrobat Reader