The event will showcase Scotland's natural diversity, from the most varied geology to the resulting cultural landscapes. Colliding continents, erupting volcanoes and moving glaciers helped to shape this diversity in geological time.
Mountain habitats and soils – sensitive ecosystems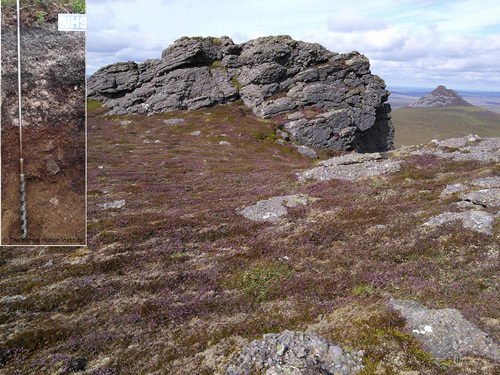 The alpine and subalpine soils of Scotland are confined to the exposed mountain summits and plateau areas where wet, very cold climatic conditions contrive to the slow development of soils and habitats. Upland and mountains soils are strongly influenced by the underlying hard geology and quaternary glacial and periglacial deposits.
Mountain habitats contain and support sets of rare species such as ptarmigan, netted mountain moth and mountain burnet, mountain willow species and many rare bryophytes and lichens. Slow growing heaths with lichens found on mountain soils are a common vista on many of Scotland's mountains. These ecosystems are fragile and particularly vulnerable to change climate change and are easily tipped into degraded states by changes to land use. Despite appearing as desolate and wild, Scotland's landscapes have evolved from millennia of farming, forestry and, more recently, game practices. Overgrazing by deer and sheep can reduce the potential of this habitat to expand and increase the carbon storage its carbon storage.
The Peatland of Scotland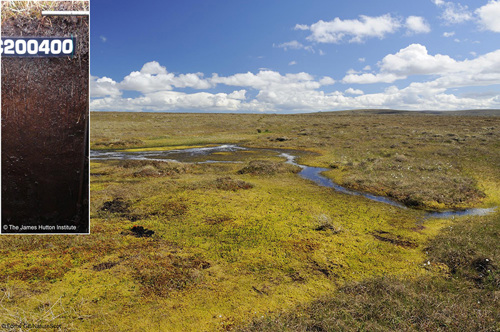 More than one fifth of Scotland's land area is covered by peatland habitats characterised by peat soils (Histosols) and other peaty soils (with a shallower peaty or histic layer). Blanket bog habitats are widely developed in cool, oceanic climates on gently sloping ground with poor drainage. Found throughout the Scottish uplands, but rare globally, blanket peat is Scotland's largest natural terrestrial carbon repository, holding around 1.6 billion tonnes of carbon. Raised bogs are rarer still, limited to the lowlands, where they appear as domes of peat growing to 10 metres or more in height. They are solely fed by rain-water, with a waterlogged, acidic surface lacking in nutrients.
Peat has been exploited as a source of fuel, a growing media for horticultural industry and is key element for production of 'peaty' whisky. During the past few centuries attempts have been made to drain and 'improve' peatlands for farming, gaming and forestry. A result of this is widespread erosion and degradation, which is exacerbated by climate change. When maintained or restored, these unique habitats can sequester huge amounts of carbon and store it for thousands of years.  The national Peatland Action project, is a multi-annual investment by Scottish Goverment in peatland restoration which started in 2013 and has already set over 30,000 ha of peatlands on the path of restoration.
Heather moorland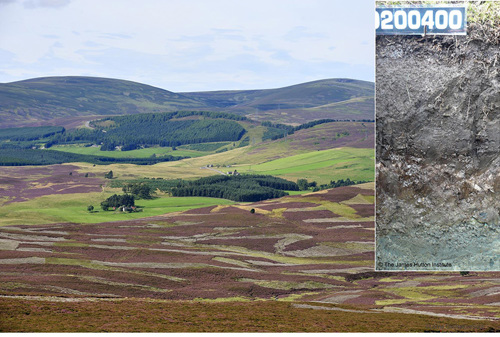 One of the most iconic landscapes of the Scottish uplands are heather moorlands. These moorlands typically develop on peaty, podzolic soils with low inherent fertility. Moorlands often present as mosaics of semi natural habitats combining peatland, heath and rough grazing. The way the land has been managed over centuries in response to the limitations of fertility, climate and accessibility contributes to the diversity of habitats we see today. Heather moorland has been maintained by a variety of practices including grazing and controlled burning (muirburn).  Some land managers continue to use fire to create mosaics of heather patches of different ages to benefit game birds. There are concerns that these practices can lead to the erosion, degradation and loss of carbon stored in moorland.
Moorlands have experienced widespread pressures from land use changes including – forestry expansion, renewable energy production, increased grazing pressure from deer, and a decline in hill cattle grazing. Changes to management practices in these upland areas offers both opportunities and risks for increasing carbon sequestration and improving biodiversity.
Farmland – arable and improved grassland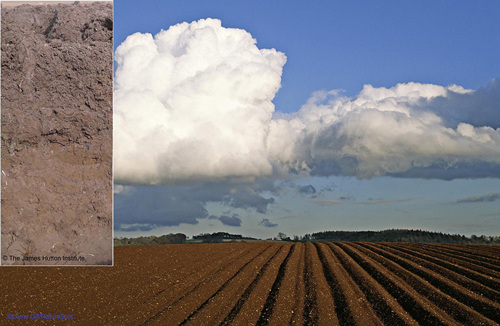 Arable farms account for approximately 8.5% of Scottish agriculture used land, with an average size of 110 ha.  Within these holdings on average one fifth of the farm will be grassland. Arable farms are found on the most fertile and versatile soils (Land Capability class 1 to 3.1), predominantly in the lowlands of the central belt and eastern fringe of Scotland.
Agriculture represented 18.5% of Scotland's GHG emissions in 2020. Climate impacts, including changes in temperature and rainfall are already impacting on soil functions and affecting farming businesses.  These changes will alter the patterns of Scotland's agricultural land use with consequences for the resilience of food systems and issues such as flood risk. The changes could put at risk our farm wildlife and both the variety and the qualities of valued landscapes. The way the land is managed has many implications for the capacity of society at large to adapt to climate change.  Environmental outcomes can help make land based businesses more resilient to climate change and future challenges (Preparing the Evidence Base for Post-Brexit agriculture in Scotland and Nature Restoration at the Landscape Scale project).  Promoting soil health through better land management, such as targeted nutrient use, is essential to maximise agricultural efficiency and minimise losses to the environment. (Farming for a better climate and Farming Advisory Service). ​
Farmland – grassland / livestock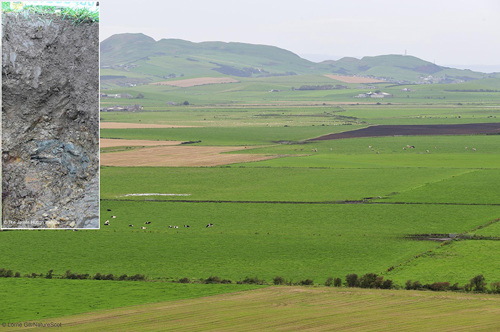 Grass-fed livestock farming is widespread across Scotland, ofton on less productive land but across a range of local soils types. In addition to the managed leys of highly productive grassland, such farms often include species-rich grasslands of conservation value.  These are usually found on land that has had limited inputs of lime, synthetic fertiliser and herbicide and is subject to well-managed grazing.
Dairy in Scotland represents 1.5% of Scotland's utilised agricultural areas (UAA), with nearly 85% of this on mainly grassland farms. Dairy farmers generate more income per ha from agricultural activities and from agri-environment schemes on average than cropping farms. These holdings average 149ha and are found on mostly in the south west and central belt on gleyed and more peaty soils.
Livestock (lowland) cattle and sheep account for nearly 7% of Scotland's UAA. Average farm holdings are 57ha.These farms are often more diversified yet have less uptake of governmental agri-environmental schemes than dairy farms.
Hill sheep and cattle farming typically occurs in less favourable areas (with lower soil fertility and limited cropping capacity) and account for 50% of Scotland's UAA. Forestry is also significant on these farms as is strong engagement in agri-environment activities including peatland restoration.
Environmental outcomes can help make land based businesses more resilient to climate change and future challenges. Correct soil management and targeted nutrient use are essential to maximise agricultural efficiency and minimise losses carbon and nutrients to the environment.
Caledonian Pinewood forest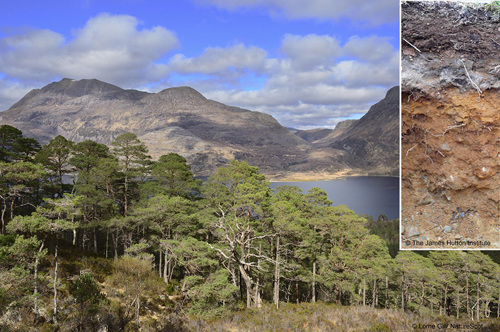 Caledonian pinewoods occur on thin, infertile, mineral soils across Scotland, often found on Humus Iron podzols. Pinewoods are not as biodiverse compared to some more fertile woodland types such as lowland oak stands or ash-rich woodlands. However, they do support characteristic species including capercaillie, black grouse and Britain's only endemic species of bird, the Scottish crossbill.
Native pinewood forest demonstrates the great potential for Scottish forests and woodlands to sequester carbon and retain a high biodiversity values. Evidence shows that more carbon can be stored if woodland expansion occurs on mineral soils and has limited soil disturbance during establishment, felling and other forest operations.
Nature in the city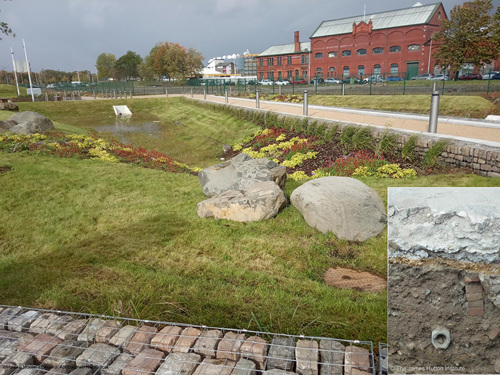 In the modern urban environment, well planned infrastructures optimising the use of planted areas – or "greening" - can have a high dividend of valuable benefits.
The impact of past activities is reflected in the complex nature of urban soils, which range from semi-natural soils in parkland areas and other long-established green spaces to highly disturbed technosol and anthrosol soils developing on a variety of materials from many different sources. Such soils create unique problems for their management. Understanding and managing urban soil is central to developing solutions to help improve urban drainage, promote sustainable use of water, transform vacant and derelict land, create new greenspaces to help increase carbon capture, and to improve wellbeing.
Where soil and water meet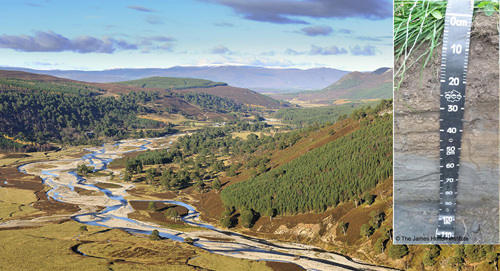 Our lochs, rivers and wetlands support many important habitats and species, and our wetland vegetation also helps to maintain water quality. Clean water is a vital resource not just for people, but also for our plants and animals.
The protection of the water environment is intricately link to good management of our land. Soil filters water helping to purify it and prevent water diffuse pollution. It also slows down the flow of rainwater to rivers and is key to preventing or reducing the risks of flooding.
Land-based activities can posed a risk to not just soil its impact on but also air and water. Hence Reducing risk of soil loss from erosion will help prevent diffuse pollution and keeping soil and nutrients in the field available for plants and crop growth.
Giving space to nature either by maintain functional geomorphology processes or by allowing nature engineer like beavers to adapt water flow can play an important role in helping to control the occurrence and intensity of flood events. Reducing sediment loads will help maintain quality of our lochs and rivers to protect its unique biodiversity.
Scotland machairs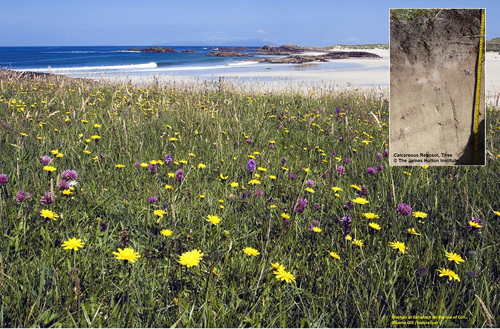 Machair is a Gaelic word meaning fertile, low-lying grassy plain. Machair is the common name of one of the rarest soil and habitat type in Europe, found on the exposed west facing shores of Scotland. Machairs are formed where lime-rich shells sand washed up thousands of years ago by the sea, are eroded from dunes by powerful winds, spreading the sand well inland. The unique cultural habitat that develops on these rich calcareous soils has been for millennia associated with traditional crofting farming communities - a form of tenanted agricultural smallholdings, centered on liverstock, particular to Scotland. The traditional low intensity system uses natural fertilisers such as seaweed and cow dung, has low levels of grazing by traditional breeds of cattle.
This habitat supports a number of important flora and fauna species such as corncrake and the great yellow bumblebee.  Uncultivated and fallow machairs are colonised by rich blankets of flowers including rare orchids and wetter marsh species were the sand has accumulated over inland peat deposits.
Machairs are at risk from sea-level change, development and intensification of farming practices.